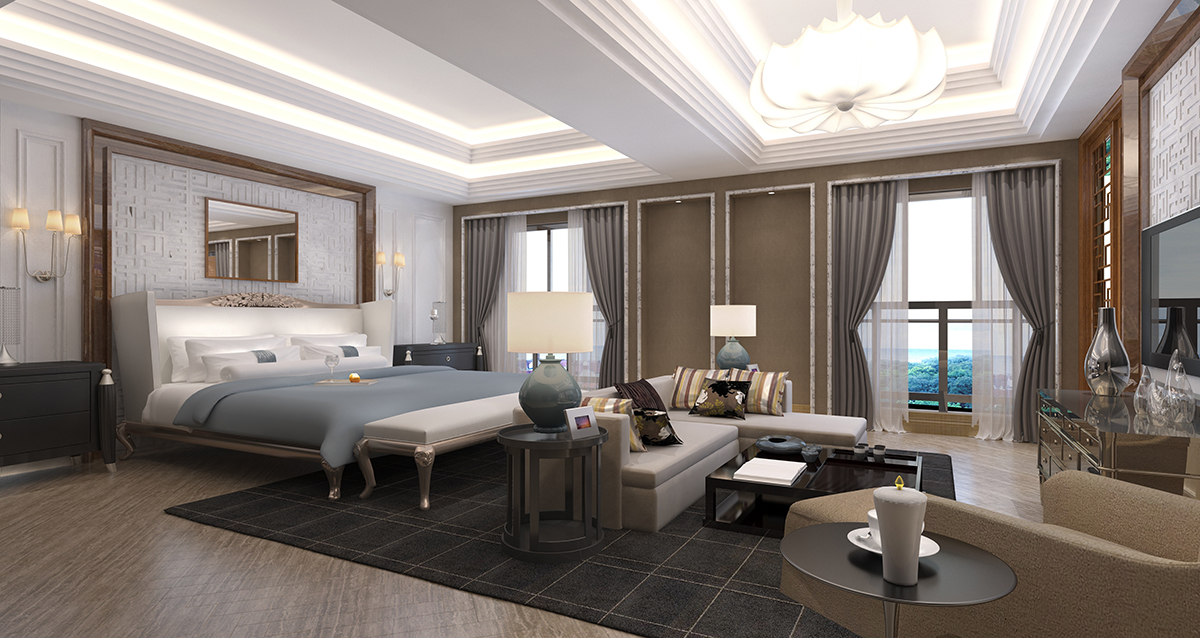 Did you know that Las Vegas has more hotel rooms than any city in the world? You did? Oh, well, did you know that it also has some of the most luxurious suites ever made? Ah, we've got your attention now.
We've curated a list of some genuinely high roller suites for you to gawk at. Whether you want to go bowling, shoot some hoops or swimming, these are the ultimate Vegas destinations. And if $35,000 a night sounds like a steal, then maybe you should have us over some time.
The Nobu Villa at Nobu Hotel Las Vegas
This is the crown jewel of the Nobu Hotel. The villa was designed by David Rockwell, and at 10,500 square feet, it is all about extravagance. The likes of Jennifer Lopez, Miley Cyrus, and Justin Bieber have graced its hallowed halls.
For only $35,000 a night, you get three bedrooms with a master suite that has its own private deck featuring a Japanese maple tree! Let's not forget the sauna and massage room, Zen garden, a massive terrace with its bar, and multiple dining areas. Oh, and did we mention the personal butler? Yes, there's a personal butler to make sure your stay is as pleasant as it should.
Bentel & Bentel Penthouse Suites at The Cosmopolitan of Las Vegas
The Cosmopolitan is known for its modern vibes and contemporary style. Throw all of that out the door if you're lucky enough to enter the 70th floor. Here, you'll four suites designed by Bentel & Bentel Architects. The styling is more austere than the rest of the casino. But don't be led astray; the offerings of these elite suites will floor you.
One of these suites, The Foxglove, is inspired by classic black-and-white movies. It's meant to evoke spotlights and moving filmstrips; it even has a bathroom projector that can screen a film while you're in the tub. Images of Elizabeth Taylor and Montgomery Clift will accompany you during your stay. It even has a sit-down theater for you to enjoy private screenings.
Hardwood Suite at the Palms Casino Resort
Have you ever wondered how basketball royalty party? Well, if you can afford the $25,000 a night price tag at the Palms, you can find out. That amount nets you a 10,000-square-foot suite with two master bedrooms, your own locker room and, wait for it, an indoor basketball court! If you want to party like Lebron, or maybe even Lebron himself, this is where to do it.
The court has three NBA-sized Murphy Beds that fold out for some court-side naps. After a game or two, you can recharge in the jacuzzi and watch a game on one of the many plasma TVs. Oh, and this suite also comes with its own butler service. No, he won't shoot hoops with you.
Chairman Suite at The Bellagio
The Bellagio is one of the most recognizable hotels on the Strip. With its dancing fountains and looming palatial façade, you know you're in for a luxurious evening. The Chairman Suite sits atop the Spa Tower with 4,075-square-foot spread across two-bedrooms.
For $7,000 a night, you get your own solarium, indoor garden, and an L-shaped bar for entertaining. But if you're in the mood for a quieter time, escape Sin City's craziness by indulging in a whirlpool tub with views over the sleepless city.
Mandarin Suite at the Mandarin Oriental, Las Vegas
The upper levels of the the Mandarin Oriental hide away its most luxurious rooms. On the 22nd floor, you'll find its namesake suite. The price tag? A cool $5,000 per night. You get dining tables for eight, a fitness room, Art Deco bedrooms and a lounge with its cocktail bar.
Presidential Strip-View Suite at the Four Seasons Hotel Las Vegas
The luxury is in the name: floor-to-ceiling panoramic views of the Strip! This is a suite with just over 2,000 square feet. It comes with a dining room, living room, pantry, home office, and master bedroom! For only $3,000 per night, you can enjoy sunrise and sunset from the comfort of your bed.
If you've got the cash, time to lay it down and enjoy the suite life. If you're like the rest of us and don't, well, then, start saving up for the trip of a lifetime.
Leave an invitation for us at the reception desk.
https://hotvegasbabeslv.com/wp-content/uploads/2018/08/logo-1.png
0
0
Supportadmin
https://hotvegasbabeslv.com/wp-content/uploads/2018/08/logo-1.png
Supportadmin
2018-06-29 11:22:11
2018-06-07 09:32:43
The Suite Life of Vegas - The Most Luxurious Suites