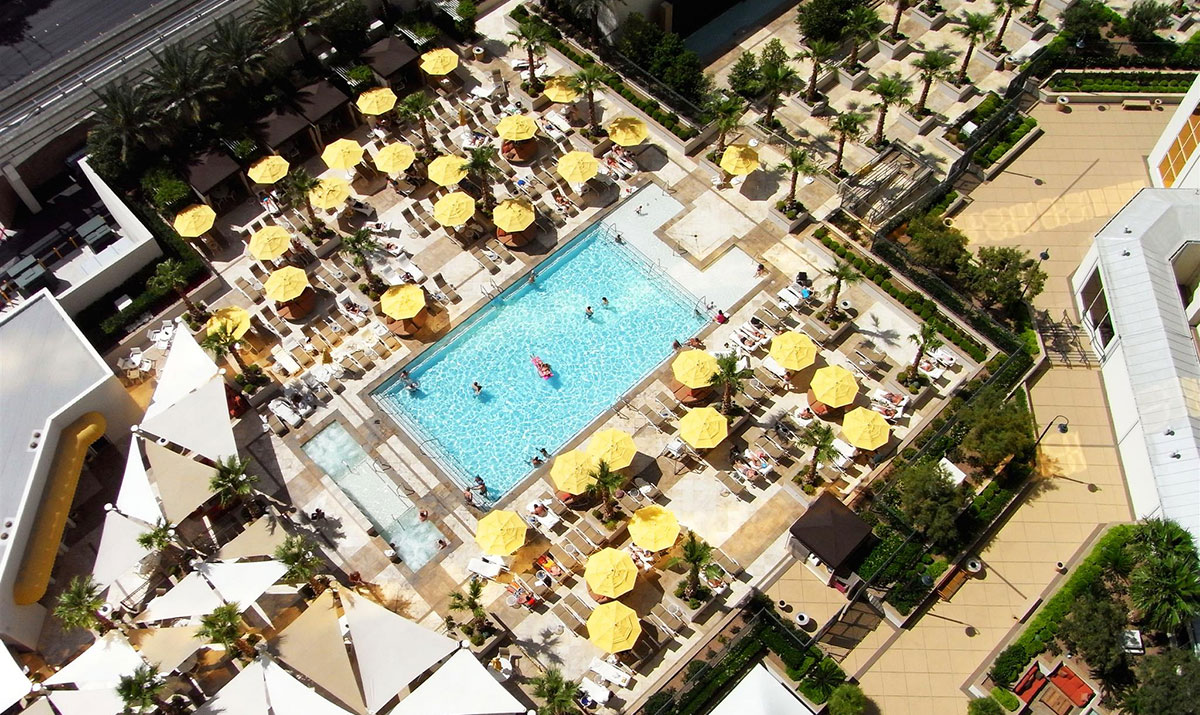 It gets hot in Las Vegas – in more ways than one. If you're looking to cool down while you get the service you deserve, then a luxury hotel pool is where you want to be. Yes, we know, Las Vegas is a desert, but we still do it better than any other city on the planet.
Garden of the Gods, Caesars Palace
This is how Roman emperors lived it up. At the Garden of the Gods, you'll be treated to a sextet of simply spectacular pools! How can we describe them? The words spacious, elegant and stately come to mind. This collection of private pools is the premier Las Vegas destination. The Roman architecture will transport you to a more decadent time. Named after the mythological gods and goddesses, there's a pool for every mood:
Temple Pool – Elegant ambiance with striking views.
Neptune Pool – Splash and socialize amidst beautiful people.
Apollo Pool – Maximum sun exposure to worship the God of Light.
Jupiter Pool – A secluded and stately spot to rest and recuperate
Fortuna Pool – Play your hands against fortune with swim-up blackjack
Bacchus Pool – A VIP experience reserved for celebrities and guests.
To this, we only have two words: Hail Caesar!
Encore Beach Club
An award-winning dayclub venue with a  lushly landscaped three-tiered pool complex. Okay, that as a mouthful. Can we just say that this place is the definition of luxury? With two-story bungalows and temperature control units, it's safe to say we can. If you stray from the cushy cabanas, you can find balconies overlooking the strip and excellent bars on either side.
You can't avoid the luxury. A good problem to have.
Mandalay Bay Beach
Welcome to paradise. No, seriously. Mandalay Bay boasts an 11-acre aquatic playground with three massive pools and 2,700 tons of white sand. TripAdvisor recently voted it as one of the best pools in the country. With hundreds of cabanas for rent, personalized villas, and daybeds, it's easy to see why. But if that's not enough for you, then get ready to float in the 1.6 million gallon wave pool.
During the summer, jam out to live performances at their Beach Concert Series. And for those of a more risque nature, there's the Toptional Moorea Beach Club. Like the name says, the top is optional; the private dipping pools, chaise lounges, and relaxing day beds and private pavilions are not.
If you can't go to the beach, we'll bring the beach to you!
The Aquatic Club, The Palazzo
When you grow tired of what the other pools have to offer, make your way to the Aquatic Club. It's different in almost every way. The style is timelessly cool, inspired by the swim, racquet and lawn clubs of days gone by. Experience some throwback cocktails, delight in the art-adorned cabanas, indulge artisan ice pops and enjoy signature poolside fare. The Aquatic Club is a boutique experience that caters to a more couture crowd.
Put your pinky finger up and enjoy some sophistication and style.
The Pool, Bellagio
Delight in the enchanting lure of the Mediterranean! The pool at the Bellagio is luxury defined. Dip your feet in the azure waters of Las Vegas' most inviting pool. There are five unique pool courtyard settings for you to choose from. If that's not enough, there's the elegant garden vista café, poolside massage, spas and private cabanas.
Welcome to your very own private oasis. Enjoy.
Have you ever wondered where the millions of gallons of water that supply Las Vegas' pools come from? No, neither do we. We try not to let these types of questions bother us as we enjoy a custom cocktail by the pool.
You're welcome to join us.
https://hotvegasbabeslv.com/wp-content/uploads/2018/08/logo-1.png
0
0
Supportadmin
https://hotvegasbabeslv.com/wp-content/uploads/2018/08/logo-1.png
Supportadmin
2018-07-20 06:00:12
2018-06-07 14:43:47
5 Best and Most Luxurious Las Vegas Hotel Pools